GALVANISED POULTRY DRINKERS
SUPPLIERS OF QUALITY GALVANISED POULTRY DRINKERS
We stock a good quantity of Galvanised Poultry Drinkers, our range includes Fountain Drinkers which are available in a selection of sizes as well as Bucket Type Fountain Drinkers. These types of drinkers are suitable for Chickens, Ducks, Turkeys and Geese.
The Standard Type Fountain Drinkers are made from Galvanised Steel and are available in 1/2" gallon, 1 gallon, 2 gallon and 3 gallon sizes. They are easy to carry, when full, by the top handle and come with a seamless galvanised tray base. To use simply untwist the outer tube, fill with water, reattach outer tube and twist to lock the lid. The water is dispensed through a small hole at the bottom and will only fill up to just above the outlet hole.
The Bucket type fountain drinker can hold approximately 3 gallon and is made from galvanised steel. It is very easy to fill up and comes with a carry handle for easy handling. When the bucket drinker is put on it's side the water fills up the small front trough to the top (working on the same vacuum-principle as a standard fountain drinker)
We apologise for any shortages on our galvanised poultry range at this current time, regrettably this is beyond our control as our supplier has gone in to administration.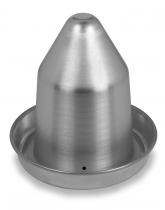 6ltr Alloy Drinker (10920)

Ref: PG112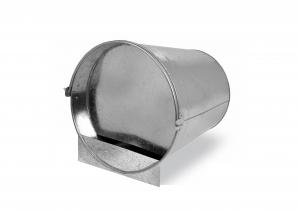 12 Litre Galvansied Bucket Drinker

Ref: PG126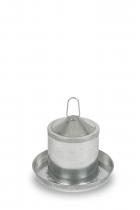 2ltr Metal Drinker (11022)

Ref: PG127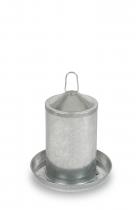 5ltr Metal Drinker (11023)

Ref: PG128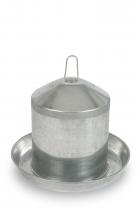 9ltr Metal Drinker (11024)

Ref: PG129

Tony Mitchell Limited is a family owned National Country/Hardware Wholesaler that has been trading for 25 years. We supply Agricultural Stores, Garden Centres, Hardware Shops, Fencing Centres, Landscape Suppliers, Feed Merchants, Builders Merchants and Tractor & Horticultural Dealers.
We hold good stocks and aim to despatch orders the same day. We keep product brands such as:
Bulldog, Berger, Ames True Temper, WD40, Oregon, Salmon Brushes, Fort Barrows, Towa Gloves, Flexothane Clothing, Matabi Sprayers, Opinel Knives, Moldex, Poultry Equipment and Agricultural Sundries.
Tony Mitchell Limited
Unit 5
Station Road Industrial Estate
South Molton
Devon
EX36 3LL
Tel: 01769 574685 Fax 01769 574686
Opening Hours
Sales department Opening Hours are 0900hrs to 1700hrs on Mon-Thurs and 0900hrs to 1600hrs on Friday
Order Online 24 hours a day
Browse over 5,000 products online and place your order either through our website or over the phone.
Friendly Customer Support
Our team of experienced support staff are available to help you order and answer any questions you might have.
Copyrights ©2020 & All Rights Reserved by Tony Mitchell Limited.